Galway & Connemara Cycling Experience *NEW 2019
---
CYCLING TOUR HIGHLIGHTS
Combine the many musical, artistic, dining and shopping attractions of Galway city with the wild and beautiful scenery of Connemara and its Atlantic islands.
Stand before thousands of years of untouched history at Dun Aonghusa stone fort on Inishmore island.
Cycle winding roads where hand-made stone walls line the edges and sheep wander along beside you without as much as a glance in your direction! This is the real Connemara experience.
Visit top attractions set against a backdrop of dramatic colours and diverse landscape, including Connemara National Park and Kylemore Abbey.
Gabriel's tour highlight: I think it would have to be the contrast of city and countryside on this tour. It gives you everything you could want of a bike trip in Ireland in terms of scenery and experiences. However, Galway, though a city, has managed to maintain the friendly west of Ireland atmosphere of a small town providing a bridge between the two.
---
Your Tour in brief
TOUR ESSENTIALS:

This is a 8 day (7 night) tour starting every Tuesday from April to October.

The tour starts and finishes in Galway city

Your Galway & Connemara Cycling Experience Tour consists of 35-45km a day and with shorter and longer options available on most days.

EQUIPMENT AND INFORMATION:

Your touring bike, helmet, front handlebar bag, puncture repair kit and lock are all included.

Full route notes and an Ordnance Survey Ireland map of the area are also provided and explained to you.

HOSPITALITY:

You can choose from two accommodation options - 3* hotels or approved B&Bs and guesthouses. All have been carefully tried and tested by our team.

A full Irish breakfast is included for you on each morning at your accommodation.

Your luggage will be transferred every day to your next accommodation.

TRANSFER AND TRAVEL:

We will bring you from Galway city to Rossaveal for the ferry to Inishmore.

The tickets for the ferry to Inishmore are also included.

Information on getting to/from Ireland and your tour start point can be found here

OPTIONAL EXTRAS:

Upgrade to a hybrid bike with front suspension - €70 per bike

Side panniers - €20 per bike

Alternative start days - €70 extra per booking.
---
Itinerary
Your tour starts in the coastal 'City of the Tribes', Galway. Located on the Wild Atlantic Way, overlooking Galway Bay in the west of Ireland, Galway is easily accessed from all major air and ferry ports via an excellent road, bus and train service, and is itself served by a small airport with flights from the UK. You will be delighted by this bustling, colourful and very friendly city and we know you will be eager to absorb all it has to offer. Music, great seafood, cobbled streets, interesting architecture and wonderful art galleries all await you. You will spend the night in Galway.
Meet & Greet - ferry to Inishmore
You will be greeted by Conor or Gabriel this morning and you will receive your route notes and maps as well as bicycle and equipment. A taxi will then transfer you with your luggage and bicycle to Rossaveal for the ferry to Inishmore. Inishmore is the largest of the three Aran Islands off the coast of Co Galway and boasts over 50 different monuments of Christian, pre-Christian and Celtic origin strewn across the island. The most significant is Dun Aonghusa. Perched on top of soaring sea cliffs it is an impressive pre-historic stone fort built circa 1100BC. Your second night will be spent on Inishmore allowing you the chance to experience the hospitality, music and unique lifestyle of this remote island community.
Morning ferry and cycle to Roundstone (45km)
The first cycle of your tour begins at Rossaveal on your return from Inishmore. Your destination today is the picturesque fishing village of Roundstone on the Connemara coast. The route you will take will bring you through the remarkable and unique scenery of rural Connemara. Here you will pass traditional stone walls which surround impossibly small fields of rocky land. This is a starkly beautiful landscape that has known much hardship but has always been home to a resilient and wonderfully-welcoming population. Roundstone, where you will spend the night is renowned as a haven for artists, writers, poets and thinkers and you will discover why this is. Traditional music sessions are held in the pubs and local seafood is worth sampling this evening
Roundstone to Clifden (30km)
From Roundstone you are journeying to another coastal town, this time Clifden, the colloquially named 'Capital of Connemara'. The main town for this entire region, it is remotely located but beautifully situated where the native bog land meets the roaring Atlantic. A traditional town where the gentle pace of west of Ireland life can be experienced, it is also a vibrant and contemporary cultural hub with art galleries, local craft shops, first-class restaurants favouring local produce from land and sea, and many characterful pubs. You will spend the night here giving you a chance to discover the best of traditional Irish music, craic and hospitality.
Clifden to Renvyle (45km)
Your destination today is the Renvyle Peninsula, a rugged promontory which juts into the Atlantic Ocean and is home to a vibrant, agricultural community. Pedalling country roads lined by stone walls and wild hedgerows, you will pass through Letterfrack village, where the unique landscape of Connemara in this area has been preserved as a National Park. It is well worth a visit and includes trail walks and an informative visitor centre. Reaching the Renvyle Peninsula you will find much to explore in a landscape dotted with lakes, golden beaches, stoney hills and quiet villages. This is where you will spend tonight.
Explore the Renvyle peninsula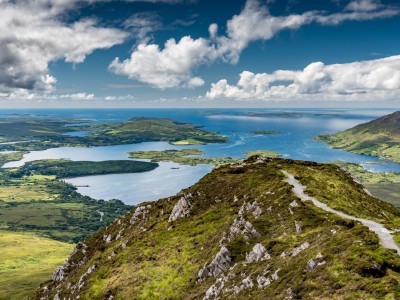 There is just so much to do and see we have allowed a full day for exploring and a second night in Renvyle. You could spend the day at one of the beaches on the peninsula, bravely taking a dip in the crisp Atlantic waters – nothing is more refreshing! If you did not do so yesterday, you could return to visit Connemara National Park in the village of Letterfrack with its looped trails and excellent visitor centre. A further short cycle will bring you to Kylemore Abbey, a Gothic lakeside castle where you can explore the restored rooms and learn about its history and tales of tragedy and romance or visit the Victorian walled garden to enjoy a horticultural paradise. Spend a second night in the tranquillity of the Renvyle Peninsula.
Renvyle to Leenane (26km)
Setting off from Renvyle through the village of Tullycross with its traditional thatched cottages, you will follow the winding coast road where an impressive view awaits you around every corner. The deep green of the Atlantic Ocean provides a sharp contrast to the slate-grey rocks and the white-sand beaches. Reaching the tiny village of Leenane, situated at the head of Ireland's only fjord, you will be wowed by its dramatic setting. Here you may opt to join a sightseeing cruise on Killary Fjord on the Connemara Lady catamaran. The trip is often honoured by the company of leaping dolphins and always includes commentary on the history and striking natural features of this magnificent inlet. Tonight you will stay in Leenane.
Your cycling holiday in Ireland finishes as it started in Galway city completing your journey from this friendly, cosmopolitan city which proudly retains its traditions, to the striking landscape and islands of Connemara and back again. Your transfer from Leenane to Galway is included for you.
---
Accommodation
When you select this tour you will have the chance to stay in either hotels or B&B/guesthouse accommodation. The 3* hotels that have been selected are all comfortable, well-appointed properties which also boast their own character and style. You may find yourself in a historic manor house hotel, one with a modern twist or get a 'room with a view' overlooking a shimmering lake or a golden beach.
However they all share the same high standards of hospitality and service and will guarantee you a warm welcome, good food and a relaxing experience after your day on the road.
The B&B option means you will get to stay in a family home where the personal touch and attention to detail is second to none. A true Irish welcome awaits you as well as home-cooked food, comfort and a taste of traditional Irish life.
While you may be staying in part of the family home this does not mean that you will not have privacy and high standards of accommodation you require. Cosy rooms, modern facilities and care and attention are what these properties excel in.
---
Price
All prices shown are in EURO and are per person.
---
---
*LOW SEASON 2019: April 1st – June 9th and September 10th – October 31st
*HIGH SEASON 2019: June 10th – September 9th
---
Terms and conditions
To secure your booking, we will request 30% deposit per person. Please note this is a non-refundable payment. The balance payment is due 30 days before the tour starts.
If your tour start date is within 30 days of booking, the full, non-refundable payment is required upon booking.
We do not organise travel to/from Ireland. However there is some useful information on our "Getting To Ireland" page.